24 Jan

BMW Factory Tour

BMW Factory Tour is about this Real Estate Broker's wanting to share interesting information about the type of vehicles that many of her clients drive: BMW.  And BMW X5.  And more specifically: 2022-2023 BMW X5 xDrive 45e.

So let's start with a video, of the Spartanburg, South Carolina BMW factory, inside the million+ SF building in which the X5s are fabricated and assembled (click on the BMW photo below):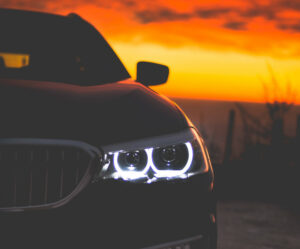 Image courtesy Mattia Righetti Unsplash
That video was courtesy of  Motor Network.  Make sure you select Stop Ads if you start seeing ads about other things.
And here are several photos Merry Soellner, Real Estate Broker, CLMH/Guild/RSPS, and her custom mountain home Architect husband, Rand Soellner, ArCH, took during their recent tour of the 7 million Square Foot 1150 acre BMW Factory and Museum in Spartanburg, SC, USA: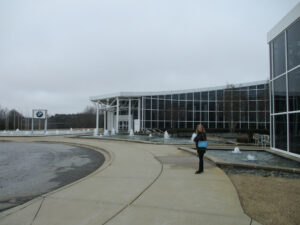 This is the BMW Zentrum just off SC 101 in Spartanburg, SC.  Zentrum means "Center" in German.  However, this is really the Museum for BMW.  On the day Merry and Rand were there, 39 people took the 2-1/2 hour tour through the factory, which is reached by luxury buses.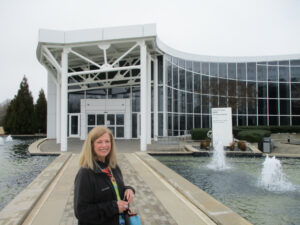 The main entrance to the BMW Zentrum.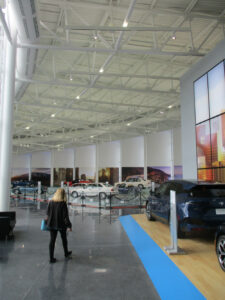 Part of the amazing BMW Zentrum museum interior.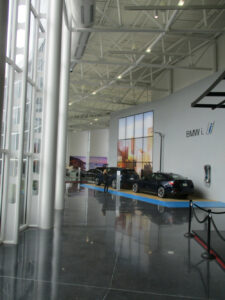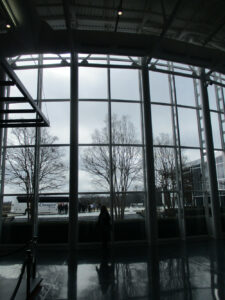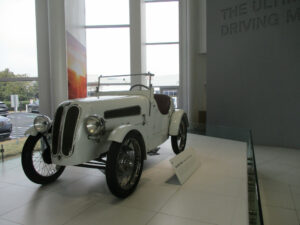 1930 BMW.  Note the double oval grille, which in one form or another, continues through to today.  BMW began in 1916, making aircraft engines, then in 1923 made motorcycle engines, then in 1928 started making automobiles.  In 1951, BMW began making premium vehicles in the post WW2 era, with the BMW 501.  In 1975, the BMW 3 series began, and in 1992, the giant BMW factory in SC began construction.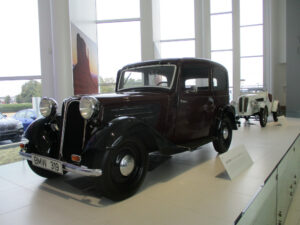 BMW 319 Circa 1937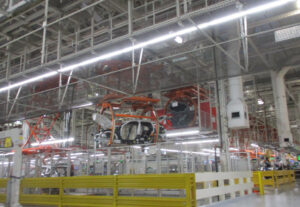 Various compartments are assembled by heavy duty factory KUKA robots, then those pieces are glued and welded together.  The glue, when cured, is stronger than the steel itself.  There are over 6,000 spot welds in a BMW.  The robots do most of the work, but it still takes thousands of workers to guide components into the assembly process.  Much of modern vehicles are made of stamped sheet steel.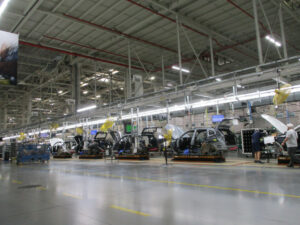 Once the main vehicle bodies are built, then hoods, doors, engines, batteries, dashboards, seats, wiring harnesses, wheels and tires need to be installed.  Heavy, smooth machinery does the heavy lifting and workers guide the large components into place.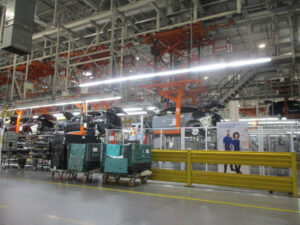 The factory buildings are approximately 40 feet tall inside.  There are several levels where the vehicles move in the assembly line, above or below each other, on their way to required installation areas.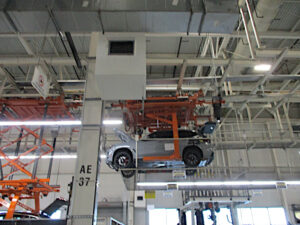 This factory makes 1,500 vehicles a day.  About a year ago, this factory and the people that run it produced more than 433,000 vehicles in one year.  Every vehicle being assembled is already sold.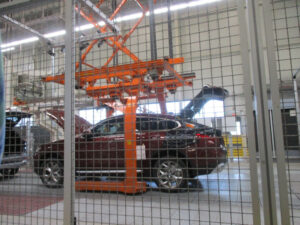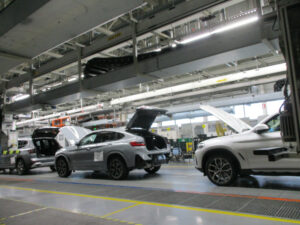 Here, the completed vehicles receive their final quality control checking and start-up testing.
Merry recommends this tour to anyone interested in vehicular manufacturing, in particular, BMW.  BTW: this is the worldwide only factory of BMW X vehicles in the world and the only BMW factory in the USA.  Its only about 60 miles away from the greater Cashiers area, to the southeast in Spartanburg, SC.  A pleasant half-day activity.