Cashiers Real Estate, Highlands Real Estate
The area that includes Cashiers, Highlands, Lake Toxaway and Lake Glenville is located on a plateau in the southern tip of the Blue Ridge Mountains of western North Carolina. At elevations of between 3,000 – 5,000 Feet, it has long been the summer residential choice of well-known, affluent people who primarily live in the southern states, and wish to escape the summer heat. Many residents of this plateau area live here as second homeowners. These homeowners understand the positive aspects of owning Cashiers Real Estate and Highlands Real Estate.  The single, biggest attraction of the mountains is the climate.
The average rainfall in the Cashiers real estate area is anywhere from 75 – 200 inches annually.  Not to worry, you are near the top of the mountains, it all runs downhill.
In this alpine rainforest (the only one of its kind in the eastern United States), the flora and fauna flourish in a beautiful profusion of variety and color. Some of these delights include the blooms of Mountain Laurel and Rhododendron and the antics of deer, raccoon, bobcats, fox and bear. Overhead, gracefully catching the "thermals", one can enjoy watching hawk and falcon.
The Cashiers real estate area has the most waterfalls anywhere.
The Cashiers real estate region is often called the land of waterfalls, there are too many to mention. However, some of the most spectacular are Whitewater Falls, Bridle Veil Falls, Silver Run Falls and Dry Falls. All of these waterfalls are easy to reach and well worth the short hike to view them.
Whether you are looking for Cashiers Real Estate, Highlands Real Estate or Lake Toxaway land for sale, this is a great place in which to live.
The population of Cashiers, Highlands, Lake Toxaway and Glenville is small. There are only a few thousand year-round residents, even though the climate is relatively temperate all year. There are approximately 33,000 people included in the population count for all of Jackson County, which also includes the county seat of Sylva.
There is an atmosphere of small town courtesy and generosity not found in most large cities. The folks here in the Cashiers real estate region just seem to care about each other. Remember, when you come to the mountains, you're now on "mountain time". The pace is slower, easier and no amount of "hurry up" will matter!

While you're in the mountains, be sure to enjoy as many of the summer outdoor activities as you have time for. You'll most likely find that you're more of an 'outdoorsy" person than you thought! Some of these activities include hiking, biking, white water rafting, golf, rock climbing, boating and skiing. There are any number of adventure providers in the area that can help you with your particular adventure.
While some people prefer a more tropical feel than the mountains in the winter, there are many winter activities that are popular in the Cashiers real estate region, Highlands, Sapphire and Lake Toxaway areas!  You can enjoy skiing, snow boarding, snow tubing or some of the more fun-type activities such as the annual Outhouse Race!  Yep, there are actually outhouses constructed on skis and people ride in them down the ski slope.  All donations benefit the Tamassee DAR school in Salem, SC.  So much fun, you shouldn't miss it!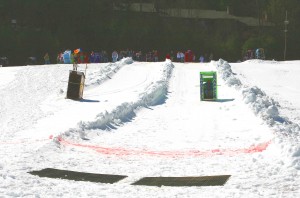 Pictured here, is some of the action, as the outhouses come down the ski slopes.  There are no controls of any kind, so the chances of making it down all the way are slim!  Hysterical to watch and exciting as all get out, these winter sports create a festive atmosphere for those brave souls who winter in these parts!
Hotels, restaurants, shopping in the Cashiers real estate region:
Accommodations (if you don't already own mountain property) on the Highland-Cashiers plateau are plentiful, but be prepared to plan early, and remember that seasonal rates apply during the very busy summer months.

There are lots of wonderful restaurants for the casual diner to enjoy, while in the mountains of the Cashiers real estate area. Don't look for red striped roofs or the golden arches, though there are a new Wendy's and SubWay, both of which are more a mountain style than the average fast food storefront. A more complete list of dining establishments will follow.
Shopping is a favorite pastime in the Highlands-Cashiers area, and there are lots of wonderful shops to browse! From mountain clothing and outdoor necessities to antiques from all over the world and art galleries to gift shops, there can be found something for everyone, of all ages!
Be sure to watch for seasonal events throughout the Cashiers real estate area, while you're in the mountains. Wyndham Resort has a full schedule of activities to occupy your time and there are many organizations that have special summer events as well.
Contact for Cashiers real estate :
Please remember, if you're looking for information about or want to see Cashiers Real Estate or Highlands Real Estate, Merry Soellner wants to be your realtor!  Please give Merry a call for all your Cashiers Real Estate or Highlands Real Estate needs at 828 399 1580    www.CashiersNCHomes.com
Merry can also help you with real estate in Glenville, Sapphire, Lake Toxaway and Franklin.
tags: cashiers real estate, highlands real estate, lake toxaway real estate, sapphire real estate, cashiers homes for sale, cashiers land for sale.