With Thanksgiving over, it's now time to Deck Those Halls, right?  In the spirit of the season, Rand and I decided to get our decorating as close to done as we could last night.  After about a zillion trips to the basement and back (Rand doesn't have to worry about exercise for a while!), we now have all our Christmas goodies spread out all over the living room.  It looks like a bomb went off!  The Christmas tree is all decorated and ready to receive pretty wrapped gifts, unless of course, you're like the aforementioned Rand, who puts gifts in brown paper bags or boxes and puts them under the tree.
I like to wear my Santa Claus hat while I'm decorating, so I can really get in the mood for tree trimming and other assorted Santa-related tasks!  It's very silly and makes me feel silly, too.  With a name like "Merry", it pretty much goes without saying that being Merry is mandatory, in more ways than one.
So, it's a gorgeous, sunny day in the mountains of western North Carolina, at the end of a busy Thanksgiving week.   All the merchants in town in Cashiers appear to be doing a booming business for their end-of-season sales, and it's all good!  Whether you're looking for gift objects, art, clothes or even hardware (we won't even mention real estate here), this is the time to help create an abundant season for our local merchants, and get a great buy, too. (Did I say I wasn't going to mention real estate here?)
If you're looking for a Christmas tree, it seems that almost every vehicle that passes by has at least one North Carolina Frasier Fir Christmas Tree tied to the top, and many of them have two or three trees (big houses, no doubt!).  A little Christmas factoid for you:   the Fraser Fir represents over 96% of all species of trees grown in North Carolina. North Carolina ranks second in the nation behind Oregon in Christmas tree production, with trees grown mostly in the state's mountains providing about 4 million trees worth about $1 billion, according to the U.S. Department of Agriculture.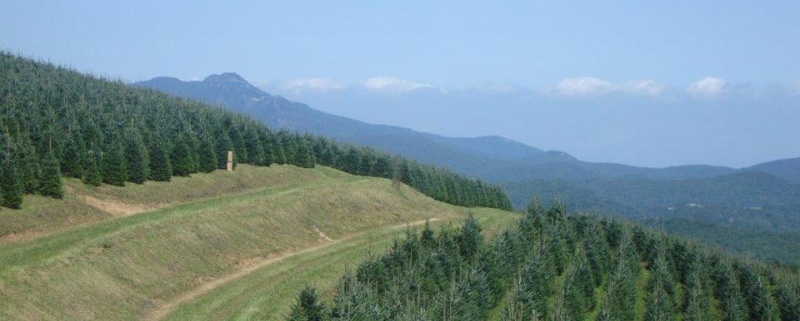 I know, right?  Who'd-a-thought it?
I would have to say that's a lot of "Decking the Halls" going on here and elsewhere.   I'm not sure how many Christmas Tree Farms we have here locally, but I can think of four without even trying!  So, when you're out buying that perfect tree (which takes 7 years to grow, BTW), see if the seller knows where it came from.  If you're on the  southern and eastern side of the US, chances are it came from North Carolina!
Have a wonderful holiday season, and when you need a knowledgeable, hard-working Realtor, please remember me!!